Coach Ken Woods is a native of Richmond, Virginia and a retired educator of 20 years. He is a board member of AAP (Academic Assistance Programs, Inc.) which provides underprivileged and at-risk students with the free academic preparation they need to get accepted to college, perform well in class and graduate.

Coach is also the Life Coach/Chaplain for The Atlanta Celtics Basketball Program where they have sent 24 players to the NBA, most notably Dwight Howard with the Houston Rockets and Josh Smith with the LA Clippers. To see the list of players look under the "Life Coaching" tab. The Celtics have also sent 4 players to the NFL, and more than 550 have attended college. The Atlanta Celtics is a spring and summer grassroots basketball program organized in 1990 with a rich history of excellent players and outstanding achievements.
Coach Woods is also Chaplain for the Reach Higher Kings, a service, inspirational leadership and training excellence program. For more information look under the tab "Life Coach/Chaplain". These principles provide the structure to make a meaningful difference in the lives of youth who participate in sports.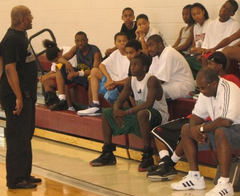 Coach Woods speaking to the Atlanta Celtics where he is the Life Coach/Chaplain just before leaving to go to the Nationals in Tennessee.